TRANSFER OF TECHNOLOGY & COMMUNICATION & POPULARISATION
OF SCIENCE
1. Activities of Technology Transfer and Communication & Popularisation of Science
(i) Establishment of Sikkim Science Centre, Marchak (Completed)
The Sikkim Science Centre is one of the important facilities created for communication, popularization and outreach of science and technology in the State .This Centre has been set up at Marchak, East Sikkim with the support of National Council of Science Museums, Government of India. The Science Centre has a number of thematic galleries, outdoor science park and facilities for training and capacity building programme.
- The further extension of Sikkim Science Centre is being taken up with the support of National Council of Science Museums, Ministry of Culture, Government of India. This will include 8 metre dia Planetarium, 3D shows as well as thematic galleries on biotechnology and biodiversity. .
The Innovation Hub is proposed to be set up in Science Centre, Marchak funded by Innovation Council under 'Scheme for Promoting Innovation, Creativity and Engagement in Science' (SPICE) to inspire young minds and to develop a culture of innovation in the country. The Innovation Hub will have following facilities for students/mentors:
• Discovery Hall
• Innovation Resource Centre & Hall of Fame
• Idea Lab
• Design Studio
• Mentoring and guidance

(ii) ENVIS Centre Sikkim on Eco-tourism:
ENVIS is a decentralized system with a network of distributed subject oriented centers ensuring integration of national efforts in environmental information collection, collation, storage, retrieval and dissemination to all concerned. The focus of ENVIS since inception has been on providing environmental information to decision makers, policy planners, scientists and engineers, research workers, etc. all over the country.

The Centre has been working on building up extensive information system on ecotourism in the country. The centre is continuously working on collection, collation and dissemination of information on Ecology, Environment and Ecotourism. The information system consists of state wise information on all parameters related to ecotourism. Information on National as well as state ecotourism policies of the country has been uploaded to bring it into a single platform for easy access and use by decision makers, planners as well as researchers. Parameters like Region wise Network of Eco-tourism sites, Wildlife and Avian Ecology and Endemicity in India, Wildlife sanctuaries & protected areas., Location wise distribution of threatened animals, Institutional Network of museums in India, State wise movement of Domestic and Foreign tourists, Situation of Agri-Tourism by region, Ecotourism travel infrastructure, Information system of eco-tourism, Economic benefits of birds and animals can be found in the website.
The website also gives comprehensive information on status of R&D in Eco-tourism, Documentation on Specie-wise details, habitat, food, human interaction, Educational, Research Institutions, Situation of wild life crime, misuse, Legal, regulatory network by region from all over the country.


(iii) Bio-Informatics infrastructure Facility (BIF) for the Biology Teaching through Bio-Informatics(BTBI) under BTISnet DBT at Sikkim Science Centre, Marchak

Activities of BIF at Sikkim Science Centre:

i. Developing the website to creating awareness of biotechnology through bioinformatics.
ii. Development of interactive information and interpretation kiosk with visuals
on different facets of biodiversity of Sikkim
iii. Collection, collation, compilation & dissemination of biotechnology related
Information to students.
iv. Nature interpretation facility about wild sanctuary and Nature Park.
v. Development of interactive computer based quizzes on bio resources of
Sikkim.

(iv) Scientific evaluation of Water purification system in State of Sikkim (Completed)
Broad area of Research: WATER
Methodology :
1. Identification of NABL accredited Laboratory
2. Field collection of samples and testing
3. Laboratory testing of samples
4. Compilation of report and analysis
7. Salient Research Achievements: Testing of water samples completed



(v) Cane (Rattan) Conservation and Promotion of cane Handicraft for sustainable livelihood of Dzongu Tribal Reserve Area.

SSCS&T under DST, Govt. of Sikkim also has been successfully implemented DST, GOI funded project entitled " 'Cane (Rattan) Conservation and Promotion of cane Handicraft for sustainable livelihood of Dzongu Tribal Reserve Area. Project was initially sanctioned for the period of period of three years (2010- 2013 but in order to accomplish few remaining activities based on the key objectives of the project it has been extended for one year till May 20014.
The project is mainly based on the research & development for the livelihood sustainability of Dzongu tribal Reserve Area, North Sikkim. While studying the species diversity of Rattan in Sikkim, 8 species have been reported so far and out of which 6 species have been successfully traced from Dzongu while executing the project. The species Calamus acanthopodius, has being found to be widely used due to its durability. However, the population of the species has been drastically reduced and facing threats due to over exploitation and unscientifically extraction from the wild habitat. During 2013-14 altogether 100 farmers from 7 GPUs have been successfully trained for rattan propagation through seeds. The master-craftsmen from the local area have also been trained for value addition of cane made products. During the year the propagation of the Sikkim's only endemic Rattan, Calamus inernis has been successfully done and some of the sapling have been put into field trail at the premises of Biotechnology research & Application centre, Sazong Rumtek. The propagation of Calamus flagellum, Plectocomia himalayena has also been successfully done at Hee- Gyathang.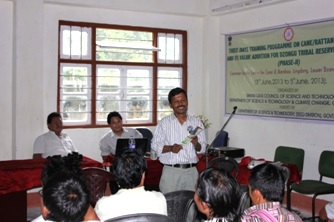 Training of Craftsmen, NGOS, SHGs, local cane farmers for Rattan propagation through seeds and value addition of cane products, at Lingdong, Dzongu, North Sikkim from 03 to 05 June 2013.

Documentation of traditional ethno-veterinary practices and its formulations:

The project "Documentation of traditional ethno-veterinary practices and its formulations' has also been successfully implemented by the Sikkim State Council of Science & Technology. The chief activities of the project are to Resource survey and documentation, database creation on ethno-veterinary & its formulation and awareness generation on ethno-veterinary amongst the tribal of rural areas. During the year 2013-14 the field documentation works has been continued to khamdong, Samdong, Dikchu, South Sikkim and few remaining unexplored areas in terms of traditional ethno-veterinary medicine (EVM) practices. During which 100 plants species have been identified for being used in the EVM practice in mixture of other ingredients. During which 60 new formulations have been recorded which have not been reported so far. The herbarium of all the species have been made for future references. Morethan 300 informants have been successfully consulted; they are in the form of folk healers, Bongthing, Bijuwa, and other traditional herbs practitioners. One research article has been accepted for the publication form the reputed journal in ethno-veterinary science. The project was supposed to complete by March 2013 but in order to accomplish the remaining targets; it has been extended till January 2014. During the survey, the most common disease being identified through the study are throat diseases, Gastritis, constipation etc. The study also reveals that most of the fodder plants being eaten by the cattle are common rather than endangered.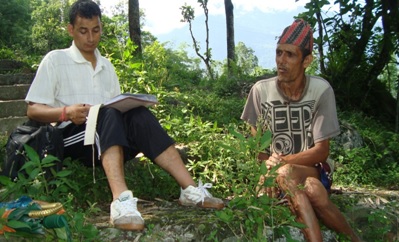 The field staff of the project recording the information being shared by the Folk- healer, at West Sikkim.

(vii) North East Climate Change Adaptation Programme (NECCAP)

The State Government has taken various programees on issue related to Climate Change in the State with an objective to axes to chain varnablity, Climate Change impact of food, water and Forest sector and suggested an approach to identify venerable section and region and incorporate adaptation strategy and practices. The various inceptive has been started by Council at National and International level. Government has approved frame work of Climate Change Adaptation Programme to strengthen adoptive capacity of the targeted community and reduce there varnablity to Climate Change through sustainable climate change adaptation majors. The German Development Bank (Kfw) has agreed to support 5 million URO (INB-30 Core) for seven years period as North –East Climate Change Adaptation Programme (NECCAP). The initial reimbursable State contribution is required amounting to Rs 5 Core as per the agreed minutes of the meeting between State Government and Kfw. Hence Rs 5 Core has to be age mark for NECCAP for the financial year 2012-13.
• Goal: Strengthen adaptive capacities of the target (rural) communities and reduce their vulnerability to climate change through sustainable Climate Change Adaptation (CCA) measures.


Background
• Following the Feasibility Study of the proposals presented by the five states including Sikkim, the KfW Mission and the State government agreed on the framework for implementation of NECCAP in Sikkim (Minutes of Meeting, October 2010), The MoM outlined the broad focus and the structure, and highlighted the need to elaborate the feasible climate-change relevant proposals / measures in the form of Project Design Document (PDD). A team of consultant was appointed by KfW to assist the nodal agency in each state for the purpose.
• A multi-department core team constituted by the nodal agency (DSTCC) constituting representatives of DSTCC; RMDD; FSADD, HCCDD, FEWD, and SIMFED discussed and finalized the project design. For the purpose a series of core team meetings, department level meetings and district as well as cluster level stakeholder consultations were undertaken between Dec 11, 2011 and Feb 17, 2012 with the help of the KfW Consultant.

2. The details of work carried out under the different projects are as under Science Awareness, Communication and Science Popularization Programme:

Communication and Popularisation of Science is one of the area of activity of the Council which pervades through all activities and initiatives of the council. This is a common platform where all divisions meet for popularization of extension work. The communication and information sharing is taken up at various levels and by identifying various location specific problems in which science & technology can play a manifested role for preparing young minds for future. Many planned activities are taken up every year which can be summarized as follows:
(i) National Childrens Science Congress Annual Programme
(ii) DBT-Natural Resources Awareness (DNA) Clubs programme in Sikkim State:

Objectives:
- To enhance understanding among students about the immense value of biological diversity of our country, the importance of locally available bioresources, their sustainable use and conservation;
- To equip them with relevant skills for bioresource conservation;
- To familiarize students with scientific and technological issues related to biotechnology;
- To provide students with an experimental learning opportunity;
- To create opportunities for hands on experiments in the field at the school level;
- To organize field trips to National Institutes and National Biological parks of the country.


(iii) Innovation in Science Pursuit for Inspired Research (INSPIRE):
INSPIRE Programme is centrally funded flagship programme of the Department of Science & Technology, Govt. of India which is being implemented through State Governments and UT administrations. The objective of this programme is to develop scientific temper amongst the young and to motivate them to take up scientific career for the scientific and technological advancement of the country. This programme has five components covering entire range of education and research from class VI to post doctoral stage of a student. The first component of this programme is INSPIRE Award which recognizes the talents among students at a very early stage.


(iv) Eyes on Comet ISON (International Scientific Optical Network)":
The Sikkim Council of Science and Technology in association with the Paschim Banga Vigyan Munch (PBVM) is organizing two days state level workshop and observation programme on "Eyes on Comet ISON (International Scientific Optical Network)" from 18th to 19th November 2013 at Sikkim Science Centre, Marchak. The programme is catalyzed and supported by the National Council of Science and Technology Communication (NCSTC), Department of Science and Technology, Government of India. Vigyan Prasar, an autonomous organization of Department of Science & Technology, Govt of India was also part of the programme for academic content and resource material.

TRANSFER OF TECHNOLOGY

1. Activities of Technology Transfer and Communication & Popularisation of Science
(i) Establishment of Sikkim Science Centre, Marchak (Completed)
(ii) ENVIS Centre Sikkim on Eco-tourism:
(iii) Bio-Informatics infrastructure Facility (BIF) for the Biology Teaching through Bio-Informatics(BTBI) under BTISnet DBT at Sikkim Science Centre, Marchak
(iv) Scientific evaluation of Water purification system in State of Sikkim (Completed)
(v) Cane (Rattan) Conservation and Promotion of cane Handicraft for sustainable livelihood of Dzongu Tribal Reserve Area.
(vii) North East Climate Change Adaptation Programme (NECCAP)
2. The details of work carried out under the different projects are as under Science Awareness, Communication and Science Popularization Programme:
(i) National Childrens Science Congress Annual Programme
(ii) DBT-Natural Resources Awareness (DNA) Clubs programme in Sikkim State:
(iii) Innovation in Science Pursuit for Inspired Research (INSPIRE):