ENVIS Centre Sikkim
ENVIS is a decentralized system with a network of distributed subject oriented centers ensuring integration of national efforts in environmental information collection, collation, storage, retrieval and dissemination to all concerned. The focus of ENVIS since inception has been on providing environmental information to decision makers, policy planners, scientists and engineers, research workers, etc. all over the country.
The Centre has been working on building up extensive information system on ecotourism in the country. The centre is continuously working on collection, collation and dissemination of information on Ecology, Environment and Ecotourism. The information system consists of state wise information on all parameters related to ecotourism. Information on National as well as state ecotourism policies of the country has been uploaded to bring it into a single platform for easy access and use by decision makers, planners as well as researchers. Parameters like Region wise Network of Eco-tourism sites, Wildlife and Avian Ecology and Endemicity in India, Wildlife sanctuaries & protected areas., Location wise distribution of threatened animals, Institutional Network of museums in India, State wise movement of Domestic and Foreign tourists, Situation of Agri-Tourism by region, Ecotourism travel infrastructure, Information system of eco-tourism, Economic benefits of birds and animals can be found in the website.
The website also gives comprehensive information on status of R&D in Eco-tourism, Documentation on Specie-wise details, habitat, food, human interaction, Educational, Research Institutions, Situation of wild life crime, misuse, Legal, regulatory network by region from all over the country.
National Interaction-cum-Evaluation Workshop for ENVIS Centres held at Gangtok, Sikkim from 28th to 30th March, 2014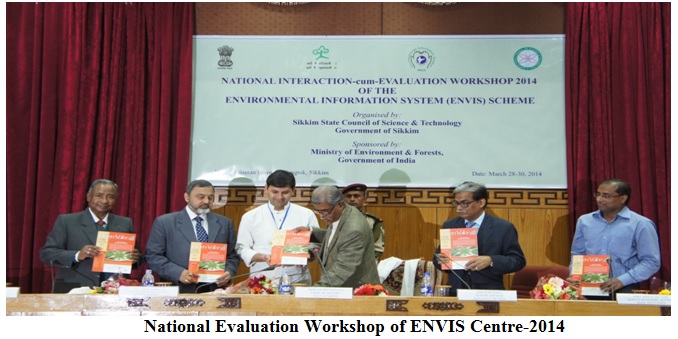 A three-day National Interaction-cum-Evaluation Workshop for Environmental Information System (ENVIS) Centres was organized by the State Council of Science & Technology for Sikkim (SCSTS), Gangtok on behalf of M/o of Environment & Forests (MoEF),Government of India, at ChintanBhavan, Gangtok, Sikkim on 28-30 March 2014.
The purpose of the Workshop was to evaluate the performance in 2013-14 of the 68 ENVIS Centres, 28 of which are hosted by State Governments/ UT Administrations. Around 125 delegates participated in the Workshop, including 90 representatives from 36 out of 40 Thematic ENVIS Centres and 21 out of 28 State/ UT ENVIS Centres.
Shri S.K. Shilal, Secretary, Department of Science, Technology and Climate Change(DST&CC), State Government of Sikkim, in his Address welcomed the dignitaries on the dais,Expert Members and delegates from various ENVIS Centres. Among the dignitaries were Shri A.K. Srivastava, Chief Secretary, State Government of Sikkim, who graced the function as the Chief Guest, delivered the Inaugural Address, ShriAbhay Kumar, (Deputy Economic Advisor, MoEF)Shri B. Brahma,(Senior Adviser, MoEF, and Guest of Honour), etc.
Review of performance in 2013-14 of ENVIS Centres was carried out in two parallel sessions by four Expert Members appointed by MoEF viz., (i) Prof. M.N.V. Prasad, Department of Plant Sciences, University of Hyderabad, (ii) Prof. Avinash Chandra, Professor (Retd.),Centre for Energy Studies, Indian Institute of Technology (IIT), Delhi, (iii) Dr. N. Ramaiah,Chief Scientist, National Institute of Oceanography (NIO), Goa, and (iv) Prof. Bharat H. Desai,Centre for International Legal Studies, Jawaharlal Nehru University, Delhi.
The participating Thematic and State/ UT ENVIS Centres made presentations on their activities in 2013-14, highlighting the collection, compilation, verification and updating of databases on the subject area by them, in particular bringing out the new databases developed and publications/ information products brought out. Dissemination of information, through various modes, such as user engagement based on statistics like visitor count on ENVIS Website and query-response were also depicted graphically.
The Experts evaluated the various Centres based on the criteria outlined in theGuidelines of the Scheme, as Category A: Very Good (≥80),B: Good (≥50 and <80) and C: Non-Performing (<50) prior to consideration of grant of fundsfor the next financial year 2014-15.A snapshot of the Grades for ENVIS Centre Sikkim on Ecotourism is below: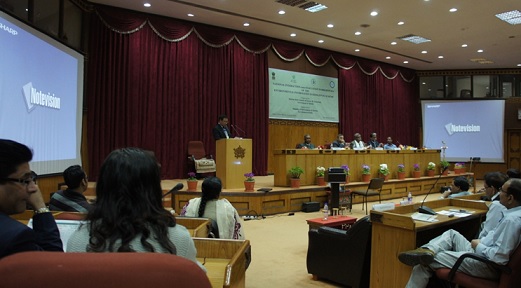 In the concluding remarks and summing up of the Workshop by Ms.Vandana Aggarwal, Economic Adviser, MoEF and Head, ENVIS Scheme, made some valuable points for the centres to deliver.
The Workshop concluded with a special vote of thanks for the hosting, organization and hospitality of the State Council of Science & Technology for Sikkim (SCSTS), and also other participating Departments, notably, the Forests, Environment & Wildlife Management Department, State Government of Sikkim, Gangtok.
The Grades of the ENVIS Centres have been put up on the ENVIS Portal, in the following link: http://envis.nic.in/grades.html



Copyrights @ 2015 Department of Science & Technology and Climate Change,Govt. of Sikkim.All Rights Reserved